Towards a higher ground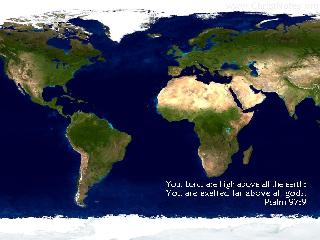 Hebrews 4:12 - For the word of God is quick, and powerful, and sharper than any twoedged sword, piercing even to the dividing asunder of soul and spirit, and of the joints and marrow, and is a discerner of the thoughts and intents of the heart.

Ephesians 6:11 - Put on the whole armour of God, that ye may be able to stand against the wiles of the devil.
6:12 For we wrestle not against flesh and blood, but against principalities, against powers, against the rulers of the darkness of this world, against spiritual wickedness in high places.
6:13 Wherefore take unto you the whole armour of God, that ye may be able to withstand in the evil day, and having done all, to stand.
6:14 Stand therefore, having your loins girt about with truth, and having on the breastplate of righteousness; 15 And your feet shod with the preparation of the gospel of peace;
6:16 Above all, taking the shield of faith, wherewith ye shall be able to quench all the fiery darts of the wicked.
6:17 And take the helmet of salvation, and the sword of the Spirit, which is the word of God:
6:18 Praying always with all prayer and supplication in the Spirit, and watching thereunto with all perseverance and supplication for all saints;

Matthew 19:29 - And every one that hath forsaken houses, or brethren, or sisters, or father, or mother, or wife, or children, or lands, for my name's sake, shall receive an hundredfold, and shall inherit everlasting life.

Matthew 19:24 And again I say unto you, It is easier for a camel to go through the eye of a needle, than for a rich man to enter into the kingdom of God.

Matthew 20:16 So the last shall be first, and the first last: for many be called, but few chosen.

James 2:26 For as the body without the spirit is dead, so faith without works is dead also.

James 3:3 Ye ask, and receive not, because ye ask amiss, that ye may consume it upon your lusts.

James 3:7 Submit youselves therefore to God. Resist the devil, and he will flee from you.

Ephesian 1:17 That the God of our Lord Jesus Christ, the Father of glory, may give unto you the spirit of wisdom and revelation in the knowledge of him:
1:18 The eyes of your understanding being enlightened; that ye may know what is the hope of his calling, and what the riches of the glory of his inheritance in the saints.

Revelation 22:7 Behold I come quickly: Blessed is he that keepeth the sayings of the prophesy of this book.